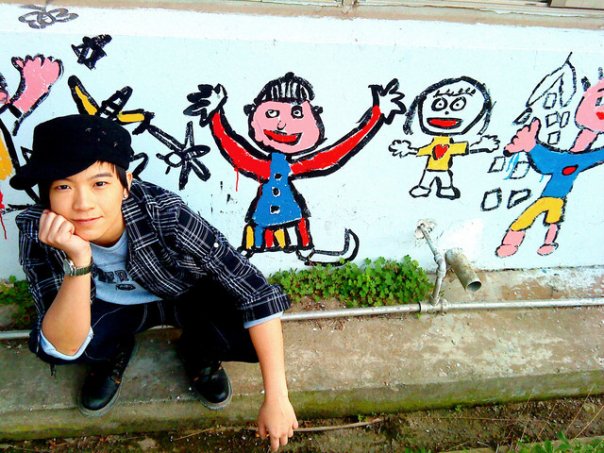 translated by minchong92 @ https://jingcastle.forumotion.net
This is Jing Chang a.k.a Chang Yun Jing/Zhang Yun Jing
When she was 24, she held a desk job while enjoying music with her small band.
When she was 25, she entered a reality singing competition and revealed her voice for the first time
Her androgynous appearance and unique performances brought upon a two-sided wave of discussions.
Under the immense pressure from the competition and public opinion, she faltered by forgetting the lyrics and was thus eliminated.
But because of her strong nature to admit defeat,
Jing chose the same song and the same outfit to once again challenge herself and ultimately win on the same stage.
With a wild-card chance, she conquered the stage again.
From that moment on, Jing became the main focus of Super Idol.
All were attracted to her tomboyish style, handsome features, distinctive voice, emotional tendencies, underground creations etc.
With these qualities, Jing reached out to a group of highly loyal and passionate fans.
Her winning of the first season of Super Idol raised even more interest from netizens
The three words "Chang Yun Jing" even entered 2008 Yahoo! chart of 'Most Searched Names" in Taiwan.
On her way to establishing her name, Jing formally signed with Gold Typhoon EMI and became the record company's most valuable debut artiste for that year.
This is Jing Chang.
Under her determined tomboyish appearance, she has a warm, detailed heart.
Many times, we see her straightforward personality. As always, she does not care to be trapped by society. She lives to free, her natural self.
Jing discovered:
That there was a huge difference between recording a solo album in the studio and performing on stage during Super Idol.
The two were as different as the sky compares to the earth. SO she chose to start anew, learning how to sing again.
Her personality contrasts intensely. She loves to cry, to laugh and to yell out loud.
From collecting songs to recording them, the unfamiliar work atmosphere strongly guided Jing's each and every move.
For her album, she spent 10 months entirely dedicated to refining each and every song.

Nicknamed "Master Jing/Jing Ye"
Her vocals match her androgynous attitude right on. Her straightforward character dispels any doubt.
In order to surpass her vocal abilities, she went into analyzing herself. Assuming her sensitive side is another quality to her voice.
Jing can't help, but sleep late. Every day, every night she just hopes to write more songs, to practice more.
During the Super Idol finals, judge Huang Guo Lun said:

"Actually today, Zhang Yun Jing gives me one thing to remark about. She moved me. She always wanted to sing her own songs and then she said she didn't care about placing in the competition. If these words are really true, then I really admire [Jing]. Because I think that a real Super Idol has to eventually sing their own song. Because Super Idols shouldn't just sing other people's songs. This is your dream, right?"
This was Jing's dream. She wasn't concerned about the competition placing, instead she sang just to give it all for her dream.
Towards Jing's uniqueness and talent, Super Idol judges had their own way of expressing their critiques.
Xiao Chong:
"She is the best singer, that is out of everyone who has sung in the competition."
Huang Guo Lun:
"I think I have to confirm you. I feel that you are both feminine and masculine, ever changing. You have a man's confidence, a woman's attention to detail. You have a lot of creativity. Your middle, low notes and your stage presence is really good. You have some weird attractive power that lies in your self-confidence while singing."
Sandee Chan:
"You just stand out, no matter what you do. Just your small movements make you really cute. I think this part is just your God-given talent. You're already prepared to be a Super Idol. When I listened to you sing just now, my heart had the feeling of being touched."
Lin Long Hsuan:
"You were born to be an artiste. Those who are meant to be artistes aren't 1 out of 10,000. They're 1 out of 1 million. I think your sensitivity can attract both genders. Your secretiveness attracts both sexes. So I think your potential really has no limits."
Bryan Chan:
"It's because you entirely put yourself in that song so your voice has enough power to express the song. But I feel that your vibrato is really nice. The ends of those notes are so good. This is a God-given talent and not something that can be taught."
Wang Zhi Ping:
"In the midst of others being modest and shy, you stand out with your self-confidence. I think this feeling is really nice. You are just that "Slow Rocker" kind of singer. So I think Yun Jing was really great today!"
Chen Le Rong:
"I think I should be able to say this. Till now, Yun Jing has always been one of the Top 7 contestants with the most stage charisma. Your vocals still need improving. But I believe that your stage charisma is something the entire audience in the nation can attest to."
Wang Mong Lian:
"It's not often that you get to hear this kind of voice."
Shi Xiao Rong:
"I really loved this song to death. When Yun Jing sings, it's just exceptional. You listen to her sing, her gentle side and then this free side of her. Both sides are grasped very well. For this, I think she's one of a kind, an artist to look forward to."
Samuel Tai:
"Yun Jing's voice is very clean, her ability to use it is also enough."
Terry Lin Zhi Xuan:
"Compared to a guy or a girl's way of singing, Jing's key is very rare. In other words, only among many people can there be this kind of voice."
Gary Cao:
"She has a peculiar attractive power that makes someone pay attention to her. You just will notice her."
Meng Ting Wei:
"I feel that Jing really put a lot of emotion into this song. Actually during the last part of the song, I felt goosebumps. That kind of feeling really touched me."
Once a regular graphic designer, who in her free time, played with her band and music.
Someone who has always kept one mentality: to be oneself
Someone who felt that life can only be lived once so she must try hard
So she could be seen, if she tried hard enough
Someone who felt that chasing her dreams would allow her to become the world's "richest" person
She is Super Idol – Jing Chang